Artisan Log Lodge is your home away from home!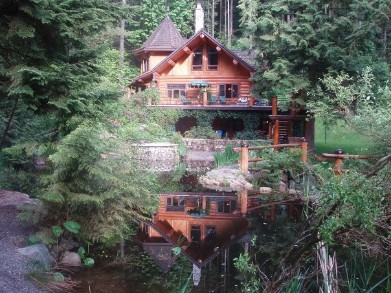 WELCOME

Your comfort is our goal. We have created a restful handcrafted log home retreat that you can think of as your very own home away from home.
Ask us about WEDDING rentals!
Customer Reviews:

"From the great beds to the peaceful setting, this was truly a little bit of heaven. Would love to go back :)" - Kim
What a show-stopper Log Cabin
We thoroughly enjoyed our short stay at the Artisan Log Lodge with our large family get together - what a perfect ending to our hectic holiday. Rob's beautiful log home is very spacious, well kept and has everything you could possibly need. We loved all the wood and craftsmanship and that setting … it was absolutely stunning! Rob met us and toured us through the home and was available nearby should we need him. We loved our stay at the Lodge and can't wait to visit again soon- maybe next time in the summer! Debbie S. Source:, from HomeAway Jan 2017
Beautiful spot and lovely amenities
We very much enjoyed our team retreat at Artisan Log Lodge. The setting is quiet and beautiful, the beds are extremely comfortable, and the kitchen is well-appointed. The hot tub, tucked in beside an idyllic pond, is delightful. Rob is a wonderfully accommodating, accessible and friendly host, and gave us full privacy unless called upon.
Deb T. Vancouver area Source: HomeAway May 2015